Announcing 2013 Promotions.
January 7, 2013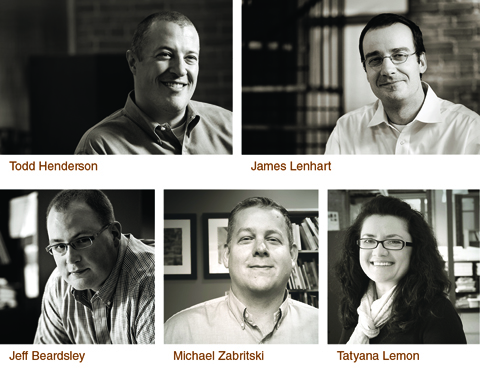 As of January 1, 2013, Boulder Associates architects Todd Henderson and James Lenhart have been promoted to Principal. Michael Zabritski has been promoted to Senior Associate, and Tatyana Lemon and Jeff Beardsley have been promoted to the Associate level.
Todd Henderson, AIA, LEED AP BD+C
Todd graduated from the University of Oregon with a Bachelor of Architecture, and has been with Boulder Associates since 2002.
Healthcare design combines two of Todd's passions: highly intricate and socially positive work. "Healthcare is technical. The code issues and equipment coordination can be complex. At the same time, I can see the greater good in the work we do." More recently, Todd has become a passionate practitioner of lean design, and he is recognized as one of the firm's Lean Leaders. In this role, Todd helps envision and implement Boulder Associates' lean transformation through training, mentoring, and supporting colleagues and clients. This ultimately fights waste, secures customer value, and improves on our company's fundamentals of good design.
James Lenhart, AIA, LEED AP BD+C
James has been with Boulder Associates since 2005. He holds a Master of Architecture from Tulane University and has been working in the architectural industry for 20 years.
James' focus has been on developing quality-based solutions for highly complex healthcare projects. He has worked to create Quality Assurance policies and procedures to improve design and detailing at Boulder Associates. "I enjoy finding more efficient, better ways to arrange the pieces, all the way through the details," he says. "There's a lot of beauty in a good detail." James' industrious efforts have resulted in fewer construction changes, improved schedules, higher energy efficiency ratings, and ultimately a better product for our clients.
Michael Zabritski, Assoc. AIA
Michael joined Boulder Associates in 2004. He holds a Bachelor in Architecture from Louisiana State University.
As Boulder Associates' Digital Design Manager, Michael oversees all implementation of the firm's digital design tools, including Building Information Modeling (BIM), and leads the effort to educate staff and clients on the latest software tools and processes. "The tools we use to design buildings and deliver projects are undergoing rapid changes. BIM changes the way we work internally and the way we collaborate with partners. Keeping up to date with the latest design technology allows us to work smarter and produce better projects."
Tatyana Lemon, IIDA, LEED AP BD+IC
Tatyana, who graduated from Colorado State University with a Bachelor of Science in Interior Design, has been designing beautiful spaces for Boulder Associates' clients since 2007. Since the start of her career, her creative style has evolved as she has stayed at the forefront of interior design. She is a strong advocate for both healthy designer-client relationships and patient-centered care. With these principles in mind, Tatyana carries her projects through to post-occupational evaluations to ensure her designs are effective in the built environment. This level of service to both clients and their patients and residents is what makes Tatyana stand out as an exceptional interior designer.
Jeff Beardsley, Assoc. AIA, LEED AP BD+C
Jeff joined Boulder Associates in 2004. He received a Bachelor of Architecture from Syracuse University.
As a project manager, Jeff operates with a holistic approach, from planning and design phases through detailing and construction. He has concentrated on improving his projects by increasing building energy performance—with proficient detailing and design—and  leading implementation of firm-wide Building Information Modeling (BIM) best practices. Jeff believes that curiosity is an essential part of being a well-rounded designer, and brings this perspective to all of his projects. Through his technical expertise and integrated project approach, he excels in his field and delivers functional, high-quality projects.