SCL Health's Platte Valley Medical Center staff rises to design challenge for new medical/surgical floor
June 18, 2019
SCL Health's Platte Valley Medical Center in Brighton, Colorado was looking to fit out its third-floor medical/surgical shell space to offer care comparable to what can be found in Denver to the growing population in Brighton and surrounding communities. To achieve this, they partnered with Boulder Associates Architects to seek out design opportunities and innovations using an inclusive, collaborative process that included staff, former patients, community members, and patient advocates.
The project's atypical, fish-like footprint presented the team with a design challenge to fit all the components of the 28-bed program efficiently. "We proposed a different approach," says Juan Ramos, Boulder Associates' Project Manager. "The footprint was already in place, mimicking the floor below. We needed to come up with a design to fit the program within that space. SCL hadn't done a lot of work with us before, so they took a small risk in trusting our methods."
The BA team recommended a validation phase—a pre-design study of the existing second-floor medical/surgical unit that would allow for the deeper understanding of what was working and what wasn't. To start, BA's researcher, Meredith Banasiak, and lean practitioner, Bill Keen, gathered data from the existing second-floor operation to set performance goals for the third-floor unit. These would focus on patient safety, patient experience, clinician effectiveness, and clinician experience and health.
Observing nurse stations, patient rooms and corridors, they studied staff workflows, communication, visibility, and processes, stress, fatigue, and satisfaction, accessibility to supplies and equipment, measured light and decibel levels, patient privacy, and risk of injury, among other outcomes to discover what would facilitate a better environment for both staff and patients on the third floor.
"The validation highlighted where improvements could be made on the third floor," adds Ramos. "It also gave us some certainty on budget and allowed us to solve problems in a way that wouldn't just repeat what's on the floor below. As a result, we ended up totally reworking the core."
"Design-wise, we knew we had to stick with the unique shape and keep it at 28 beds," he adds. "We looked at patient rooms, nursing stations, how to create a flow in the unique, long curved halls and bring in external light. For the actual layout of the space, we asked the experts who were most familiar: the staff."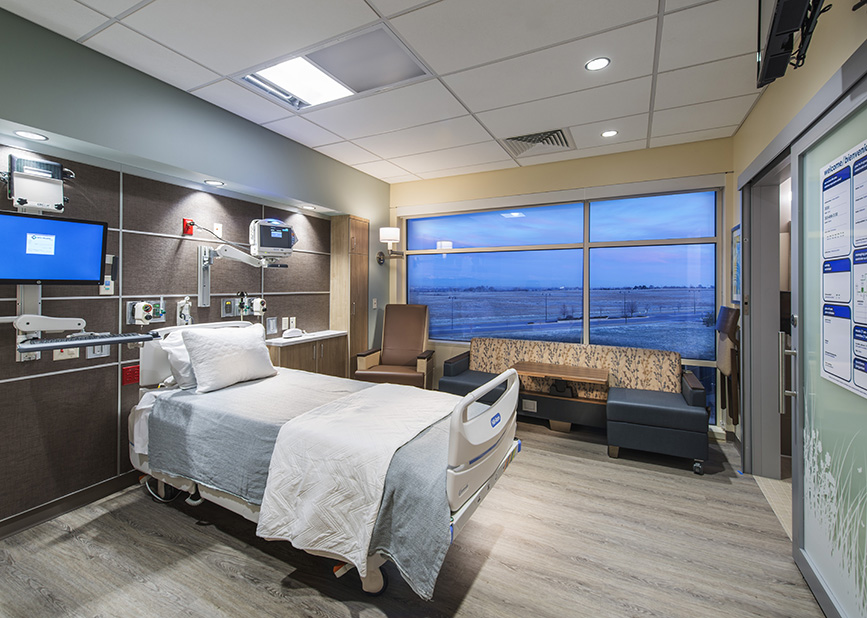 The BA team held a Paper Doll design workshop for the central core, and a Cardboard Mockup Workshop for patient rooms. This involved bringing in a diverse group including the design team, but more importantly a range of the clinical staff, including the CNO, the medical/surgical unit director and her key nursing and clinical personnel.
Dale Clingner, BA's project architect, was among those who led the teams through the workshop. "We split the groups and separately did two sets of paper dolls to try and solve their problems," he says. "We gave them a copy of the plan, and squares of paper to sort out locations for their desired layout from everything as minor as lockers and breakroom locations to the PT gym and nursing stations. They learned they had to deal with columns, mechanical shafts, elevators, plumbing, stairways—they began to understand design constraints, which led to some real "aha" moments."
Ultimately three options from each group were presented to the entire workshop group. Two of those options were then picked for the BA team to refine and design further, then brought back to the Platte Valley team for their final approval before beginning the traditional design process. Among the key changes common to both schemes involved sizing and layout of medication rooms to facilitate drug safety and staff efficiency, main nursing stations located in a central location supported by satellites, and flexible seating options for visiting families.
Because the third-floor space was shelled, the design team took the opportunity to mimic second-floor rooms with in-place cardboard mockups to identify specific areas for improvements. Two mockups were created, one of an existing patient room and one as a "blank slate." The team evaluated the current room to see what worked and what didn't. Staff findings and suggestions included locations of nursing charting stations, sink locations, as well as input on lighting, finishes, door swings, and space saving alternatives for the family area.
With this validation, BA's team then made those strategic changes to the patient room. "Since the third floor was basically half occupied at the time, the shell space allowed us to actually mock up live in the space. It was super accurate," says Ramos. "We then had former patients, staff, community members, and patient advocates come in give us further input. The design team took that feedback and immediately implemented it into the drawings. It's pretty rare that we get to do that."
"We checked all the boxes beforehand to ensure positive results; it's the BA way," states Clingner. "Do more of an assessment, utilize lean tools, and get interactive user feedback early in the project."
"Through their participation and input, the staff became the creators of their new space, which gives them a sense of ownership as they work through design challenges within the space," concludes Ramos. "And because of this, we are already getting strong feedback from patients. It's a testament to SCL's openness to trying something new and to the passion and input of their staff."
Read more about the project here.