Walking the walk: Boulder Associates Architects' Sacramento office achieves LEED Gold certification.
July 18, 2008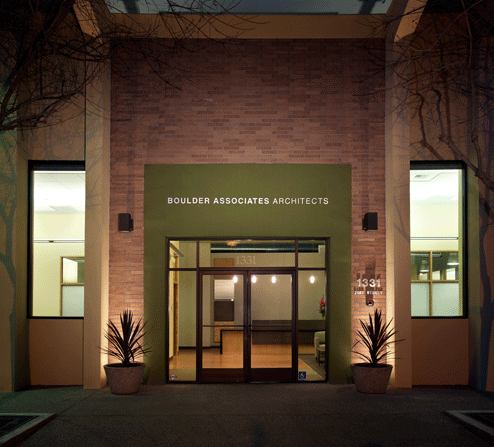 Boulder Associates Architects, a healthcare and senior living design firm, is proud to announce the award of LEED Gold certification for its office in Sacramento, California by the U.S. Green Building Council (USGBC).
The 7,500-square-foot office, located in Midtown Sacramento, is designed to highlight Boulder Associates' continuing commitment to sustainable design and practices. The long-vacant building was transformed through the remodel to function as both a living laboratory and a showcase for sustainable initiatives that are driving modern architecture. A natural consequence of this is workspace that is pleasant, healthy, engaging and functionally efficient. "A high-quality workplace is important to an organization on so many different levels," says Don Myers, Principal. "Aside from the environmental benefits, there are real savings in energy costs, and the effect on staff satisfaction and well-being is undeniable. It just makes for an awesome place to spend a working day."
The numbers can be impressive:
•    47% water use reduction
•    79% construction waste reused or recycled
•    100% powered by renewable wind energy
The reception desk is a prime example of how sustainable choices were made without compromising design and performance. It is made from Canopy Lifestyle's Palouse product and Paperstone. The former is manufactured from rapidly renewable wheat straw fibers, while the latter is composed of FSC-certified post-consumer recycled paper and a phenolic resin from cashew nut shells. The result is a durable, sustainable, stylish piece that is ideal for the modern office space.
The first floor bathroom features a shower equipped with the 1 gallon per minute Ecotech Enhance-O-Miser shower head that utilizes 60% less water than a traditional showerhead. Water pressure is not sacrificed for this solution, ensuring that the quality of the shower is not diminished.
This marks the second of Boulder Associates' offices that have attained this recognition, following the lead of the firm's Boulder, Colorado office, which was the first project in the nation to receive LEED® for Commercial Interiors v2 Certification. A recent 3400-square-foot extension to this space was also recently awarded LEED Gold certification.