4th out of 566 entries in AMD Open Architecture Asia Challenge.
June 5, 2008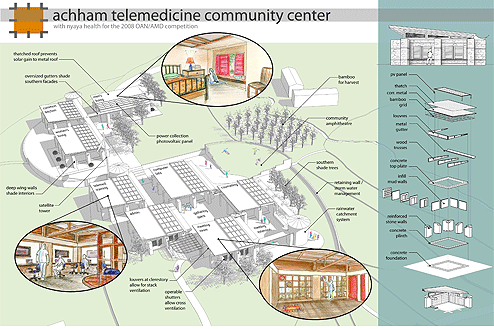 Architecture for Humanity and AMD today announced the winners of the 2007 AMD Open Architecture Challenge: Digital Inclusion, a global competition to develop technology facilities for communities in need, from the 50×15 Africa Partner Summit in Cape Town, South Africa. The global design competition invited architects, designers and others to develop sustainable designs for technology facilities in communities that lack access to computing power. The competition comprised three challenges; Africa, Asia and South America. Overall the completion received 566 registered entries from 57 countries.
Boulder Associates Architects, a healthcare and senior living design firm with offices in Boulder, Colorado, Sacramento and Orange County, California, was represented by the forth-place team team (Kathy Bevers, Gina Livinston-Smith, Tatyana Lemon and Cassie Walck) in the Asia Challenge. The Asia Challenge competition asked entrants to design a tele-medicine center for one of the poorest and most remote regions of Nepal.  The region surrounding the site in Sanfe Bagar is in a health care crisis with an AIDS epidemic along with other severe health care issues and next to no health care providers.
The Asia Challenge goal was to design a sustainable facility to improve health care access and quality by providing a training center with internet access for the health care providers.  The program included community gathering spaces for educational, economic and social activities along with living quarters for new permanent heath care providers. The ultimate goal of the competition was to select a winning project to be constructed on the site and to be used as a pattern on other sites in other remote regions of Nepal.
Boulder Associates' entry is a campus design of 8 modular pavilions arranged on the site to include an amphitheatre and several courtyards for public and private spaces for gathering, education and entertainment. Each pavilion utilizes shading, stack ventilation and cross ventilation for cooling, thermal mass for heating, supports a solar array for energy production and has oversized gutters feeding a cistern for rain water collection. Ease of construction by local labor, use of indigenous materials and simple maintenance are also key to the design.  These pavilions can withstand monsoon rains, earthquakes and mudslides common to the region. The modular design allows for phasing the construction and can be reproduced and adapted to a range of site conditions and programmatic needs.  To view this project click here.