2015 benefit enhancements to celebrate employees.
December 9, 2014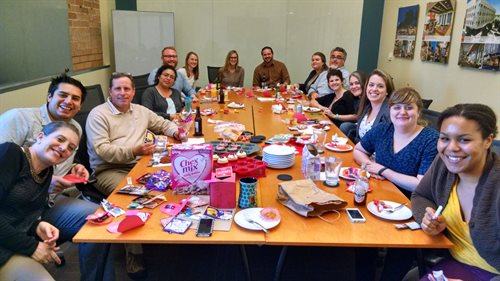 This fall, our senior leaders and Board of Directors voted to enhance employee benefits in 2015 with the following perks:
A half-day holiday to celebrate work anniversaries
An anniversary appreciation gift
A full day of paid time off to volunteer with any organization, event, or charity
"In a time when a lot of other people are losing their benefits or losing the extras, it's nice to know that our firm is adding to ours," says Erin Adcock, who has been with the firm for almost 7 years. "Adding volunteer time is really meaningful to us, especially to me because I like to do a lot of volunteer work with my church. Having the extra time to do that, and knowing that Boulder Associates knows it's important to us, pretty much sums up the culture: they take care of their people – it's not just about getting work done." "Our leaders have a fundamental and genuine care for employees," adds HR Director Tracy Oxnard. "We wanted to enrich the benefits package to simply celebrate that employees choose to be a part of our team."
Boulder Associates already has a stellar track record for employee retention (94.85% in 2014 to be exact). Our average turnover rate in 2014 was 5.15%, in comparison to the national architecture industry turnover rate of 10-12%.
"I think one of the reasons why employees want to work here is because the firm really empowers us to be better designers and architects," says Project Manager Diedre McGee. "If you show you are competent, you will be rewarded with opportunities. There are so many diverse people here with diverse passions; there is a mentor for anyone who wants to learn something or focus on a particular topic. We have experts in patient centered design; we have people who focus on detailing and construction administration; and we have people who are interested in research. Here, you aren't pigeon-holed into doing just one thing; you have the opportunity to do anything."
"They really care about your personal and professional growth," adds Pietro Martinez, who has been with the firm for five years. "Here, I never feel like I am just a number. Every day you work with people who really care about you and who will invest in your future. If you identify something that is important to you, they will support you in it."
"Our business is our people," affirms Principal Craig Mulford. "Supporting our employees, helping them grow, and showing our appreciation for them are all essential parts of our company culture. It's what makes Boulder Associates…well, Boulder Associates."