Champions for Change.
June 3, 2008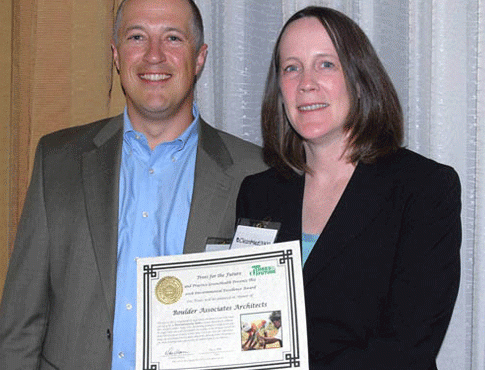 Boulder Associates Architects was presented with Practice Greenhealth's "Champion for Change Award" at the 2008 Environmental Excellence award ceremony. The ceremony was held in conjunction with CleanMed 2008, a global conference dedicated to addressing issues related to sustainable healthcare.
The Champion for Change Award recognizes the success of companies in greening their own organizations and helping others (clients, members, customers) to improve environmental performance. Boulder Associates' pursuit of an ecologically-conscious practice is codified by their Sustainable Business Practices Policy, which includes an aggressive waste reduction program, a mercury mitigation program and environmentally preferable purchasing program. The firm's Boulder, Colorado office is housed in the nation's first LEED-CI certified project and received a Gold rating. Its Sacramento office is also pursuing LEED-CI Gold, and is currently under review by the USGBC.
In 2004, Boulder Associates appointed a dedicated Sustainable Design Director to ensure the incorporation of green features into their projects. At the same time, a Sustainable Building Initiatives Project Checklist for project managers was instituted to help facilitate incorporation of green-building elements. Staff and client education on the benefits and implementation of sustainable design has been an ongoing component of the firm's practice, one tangible result of which was Boulder Community Foothills Hospital (BCFH), in Boulder, Colorado, the first hospital in the nation to achieve LEED certification.
"It is an absolute honor to be recognized by Practice Greenhealth with this award," said Kristi Ennis, Principal and Sustainable Design Director at Boulder Associates. "We will use this award as motivation to further raise the bar on promoting operational efficiency, environmental sustainability, and health, for our clients and ourselves."