Planning Post-Earthquake Recovery for Scheer Memorial Hospital in Nepal
Banepa, Nepal
In Banepa, Nepal, located in the rural mountains outside Kathmandu, women are culturally expected to take care of a lot of the heavy lifting in family life, performing hard manual labor daily, including hauling wood, cattle fodder, grains, and heavy jugs of water while also caring for their families. Childbirth is not an cause to go to a hospital, much less to take time off of work to heal properly after in an area where Chhaupadi—the banishment of women from their homes to a cattle shed or makeshift hut, with stern restrictions on their activities and interactions with others due to their so-called "impurity" during menstruation—is still common practice. As a result, uterine prolapse is an epidemic going largely untreated along with a host of other women's health issues, services for these women are virtually non-existent, and the people of the area are severely uneducated about women's health and don't feel the need to obtain medical treatment in most cases.
Centura Health's volunteer initiative, Global Health Initiatives (GHI), is an organization that aims to strengthen existing health facilities and services in developing countries, with partner facilities in Peru, Rwanda, Nepal, and Haiti. Twice a year, GHI sends volunteer surgical teams on short-term mission trips to their partner in Banepa, Scheer Memorial Hospital, to perform surgeries, mostly for women suffering from uterine prolapse who have sought treatment.
GHI was partnered with Scheer Memorial Hospital, established in Banepa in the 1950s by the Adventist Church and has grown over time to about 130 beds.  Having relied largely on limited charitable contributions since its founding, the facility is in significant need of upgrades across the entire campus.
Tim Riddle, a Principal at Boulder Associates, became aware of GHI's work in Nepal through working with the Adventist hospitals in the Centura Health system in Colorado, and volunteered BA's services in support of the GHI mission. "Something that's always appealed to me in general about healthcare is just the idea that we are doing something that's a benefit to soci-ety on the whole. To be able to use some little piece of knowledge that I have for people who clearly really need it is certainly very rewarding."
Tim's initial assignment was to design a proposed 4,000 s.f. women's health clinic addition to Scheer Memorial Hospital, established in Banepa in the 1950s by the Adventist Church and had grown over time to about 130 beds. But after a major earthquake hit the area in 2015, Tim visited the hospital with the Adventist team and participated as part of the Master Planning Committee that evaluated the structural damage done to the hospital. The team's charge was to develop a 20-year Master Plan that would addresses their major facility challenges.  They were looking to identify a phased improvement plan that would re-build and modernize the hospital entrance and registration spaces, and add much needed outpatient space for women's services.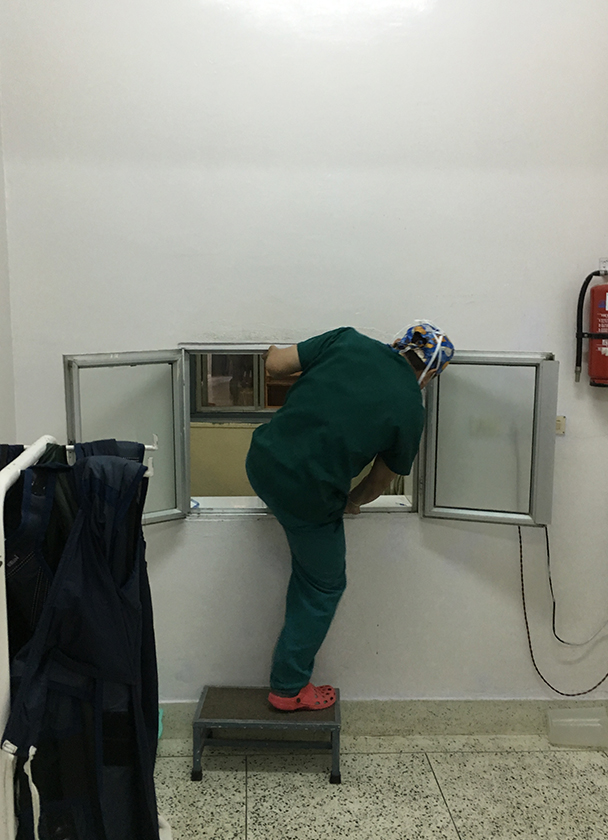 "While I was touring the surgery suite, they were showing me how there was a decontamination room that was at the end of a sterile corridor", Tim recalls. "They had to crawl through a window into decontamination from the sterile corridor to get into the C-section room. They would sometimes pass babies through this room." The structural damage incurred in the earthquake also triggered some alarming issues, like snakes getting into the operating room after certain weather events.
Tim returned from his trip humbled by the conditions, and inspired by an overwhelming amount of graciousness and gratitude for basic facility conditions and services we take for granted in the developed world. "We are unbelievably lucky here, and don't necessarily realize it."
The committee eventually recommended a tear-down of the existing hospital and a complete rebuild to construct a more structurally-sound facility and one with an  integrated women's center. GHI and Centura Health are in the process of raising the needed to undertake the project.